Noticeably Whiten Your Smile
Healthy teeth aren't always dazzlingly white. Even with great brushing habits, your teeth might be stained from the foods and beverages you consume, genetics, or as part of the natural aging process.
If your teeth aren't as white as you'd like, we can help you have a smile you'll love! At Hammond & Proctor Family Dentistry, we believe you should have a smile you're eager to share with the world.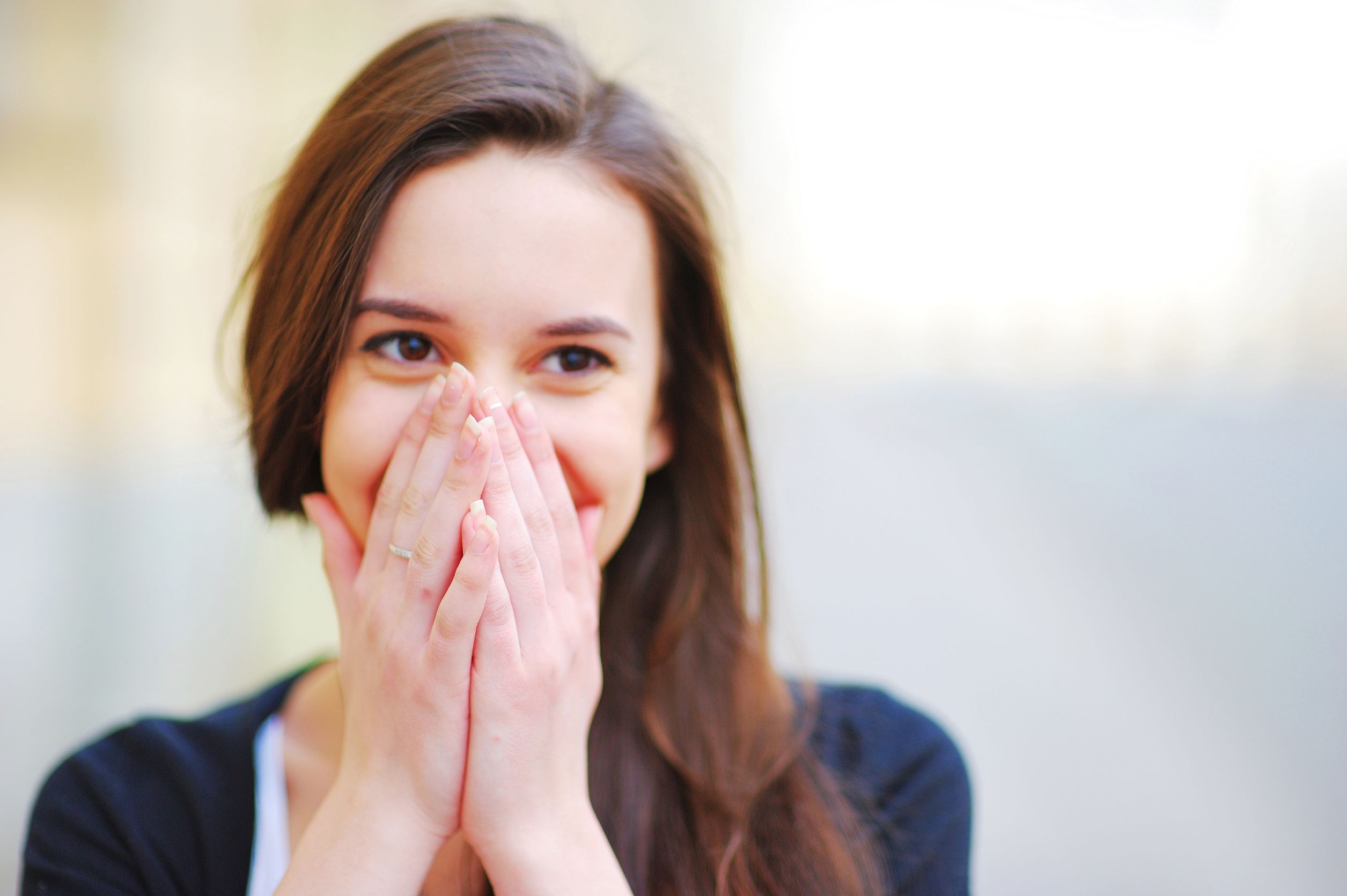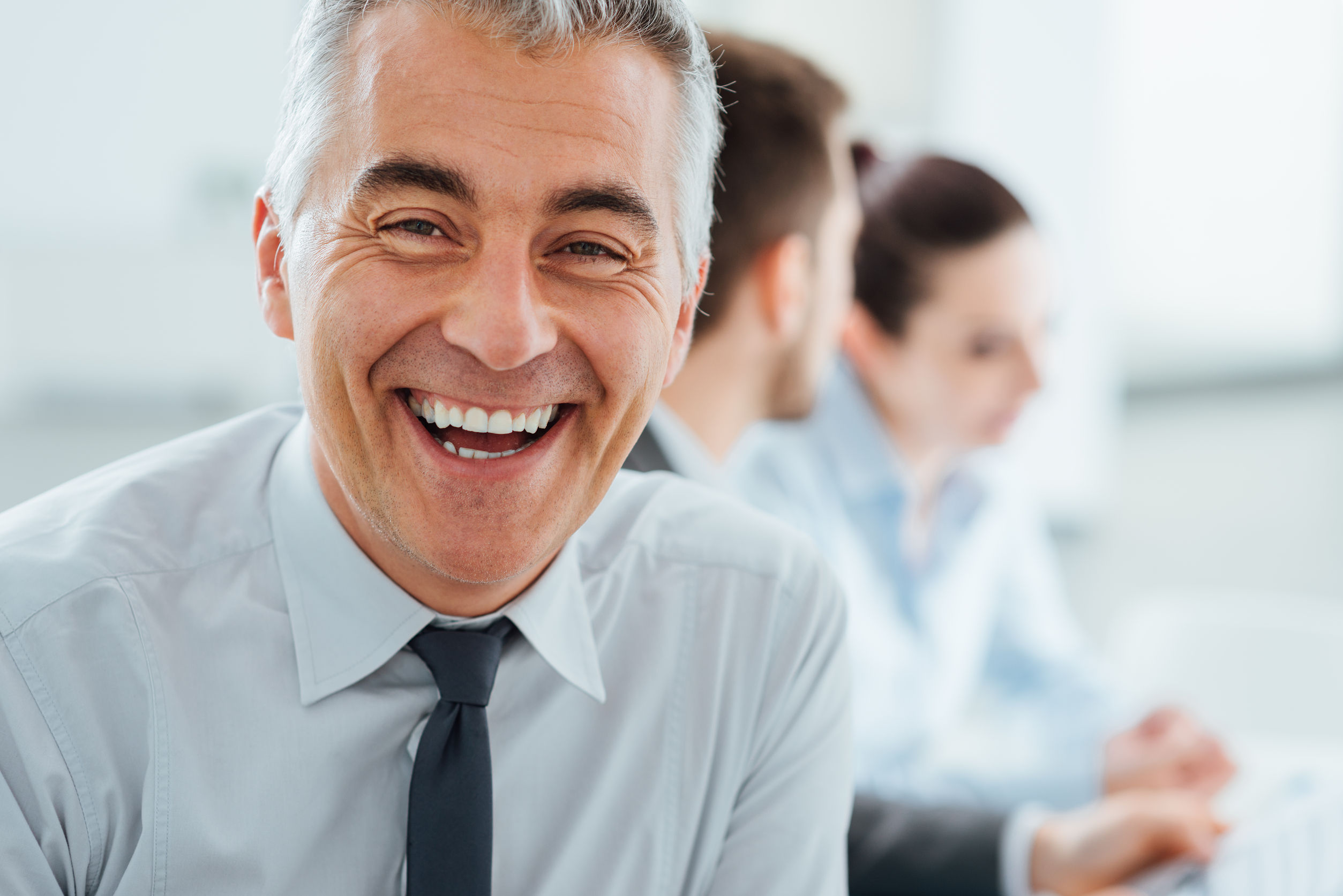 Why Whiten Your Teeth?
A whiter, brighter smile can increase your confidence. If you're not smiling because you're uncomfortable with dull-colored or stained teeth, get in touch with Hammond & Proctor Family Dentistry. We can help.
During your consultation, we will talk with you about:
Lifestyle factors that may be affecting the color of your teeth, like drinking coffee or wine, eating darkly pigmented foods, or smoking.
Whether decay or other dental health problems may be contributing to the color of your teeth.
The tooth whitening options available to you.
Your desire to maintain a natural, white, and healthy smile for a lifetime.
Teeth Whitening Options
In-Office Whitening vs. At-Home Whitening Kits
There are numerous ways you can whiten your teeth. At Hammond & Proctor Family Dentistry, we offer two whitening options to fit your individual circumstances and needs.
Traditional at-home whitening is a great option for most individuals and will typically will take 2-3 weeks of consistent whitening to get the best results.
Hammond & Proctor's in-office whitening treatments use the powerful KöR whitening system which uses a special whitening gel to get even greater results than the traditional at-home whitening alone.
We will make a model of your teeth.
We'll create custom-made whitening trays just for you.
We will provide you with a powerful whitening gel.
For at least an hour each day you'll wear your trays and gel.
You'll see the dramatic results within 1-3 weeks!
If doing the In-office whitening option, you will have a single in-office whitening session to maximize your whitening outcomes.
When you first begin using your whitening trays and gel, you may notice that your gums and teeth are a bit sensitive. These symptoms will go away after you stop using your whitening treatments for a few days.
You should also know that you'll need to repeat the whitening process to maintain the results you achieved. Your custom-made tooth whitening trays will last for years and you can continue whitening your teeth at home as needed.
Single-Visit Teeth Whitening
Our in-office whitening treatment begins by ensuring that only your teeth are exposed, covering your lips and gums. We can then typically evaluate just how white your new smile will be by finding the ideal whitening shade for you.
Next, we apply a high-strength whitening gel to the surfaces (or enamel) of your teeth. Our whitening gel is designed specifically to respond to our in-office whitening light.
We then expose the gel to a special whitening light, which causes the gel to penetrate into the enamel in order to break up stains and discoloration.
Discover your new-found confidence as you immediately gain a whiter smile to follow you right when you leave the office!
If you are interested in brightening your smile with our in-office whitening treatment, please contact us today at 530-677-0723 (Cameron Park) | 916-805-5077 (Folsom), or book your appointment online. We're ready to improve your smile.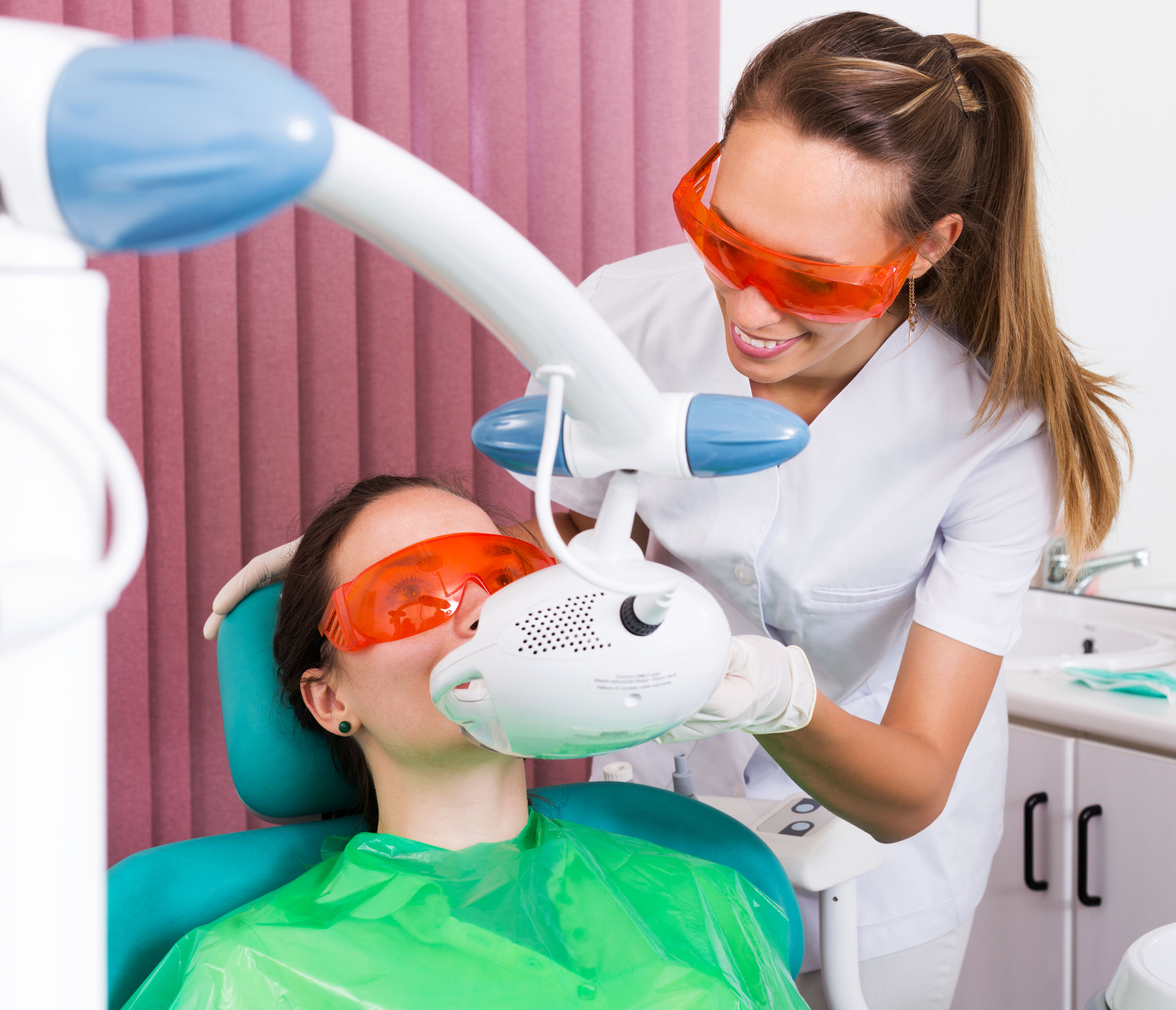 In-Office Whitening vs. At-Home Whitening Kits
There are numerous ways you can whiten your teeth with over-the-counter products being the most convenient. However, these at-home kits often demand multiple applications over the period of a few weeks.
Hammond & Proctor's in-office whitening treatments use a special whitening gel in tandem with a powerful whitening light that cannot be found in any supermarket or pharmacy. Our treatment requires a single visit to our office compared to daily applications with your at-home kit. If you're in a time crunch, whether for a wedding or family picture, our single-visit treatment may be just what you need.
Over-the-Counter vs. Dentist-Provided Home-Whitening Kits
There Is a Difference
Traditionally, store-bought whitening kits contain an uncomfortable mouthpiece or they require more whitening gel for each tooth in order to achieve the desired effect. The gel, itself, in these kits, is not as concentrated as our in-office gel, meaning that it will likely require multiple applications over a longer period of time to get those pearly whites. Hammond & Proctor uses KöR whitening kits that come with a whitening mouthpiece that is custom-built for the shape of your teeth, ensuring a much more comfortable and effective fit. Plus, our home-whitening kits use a stronger whitening gel that achieves a deeper and enduring result in less time.
Should you wish to know more about our in-office or at-home whitening treatments, please call us at 530-677-0723 (Cameron Park) | 916-805-5077 (Folsom). You can also book your appointment online and get set-up for your one-hour whitening treatment.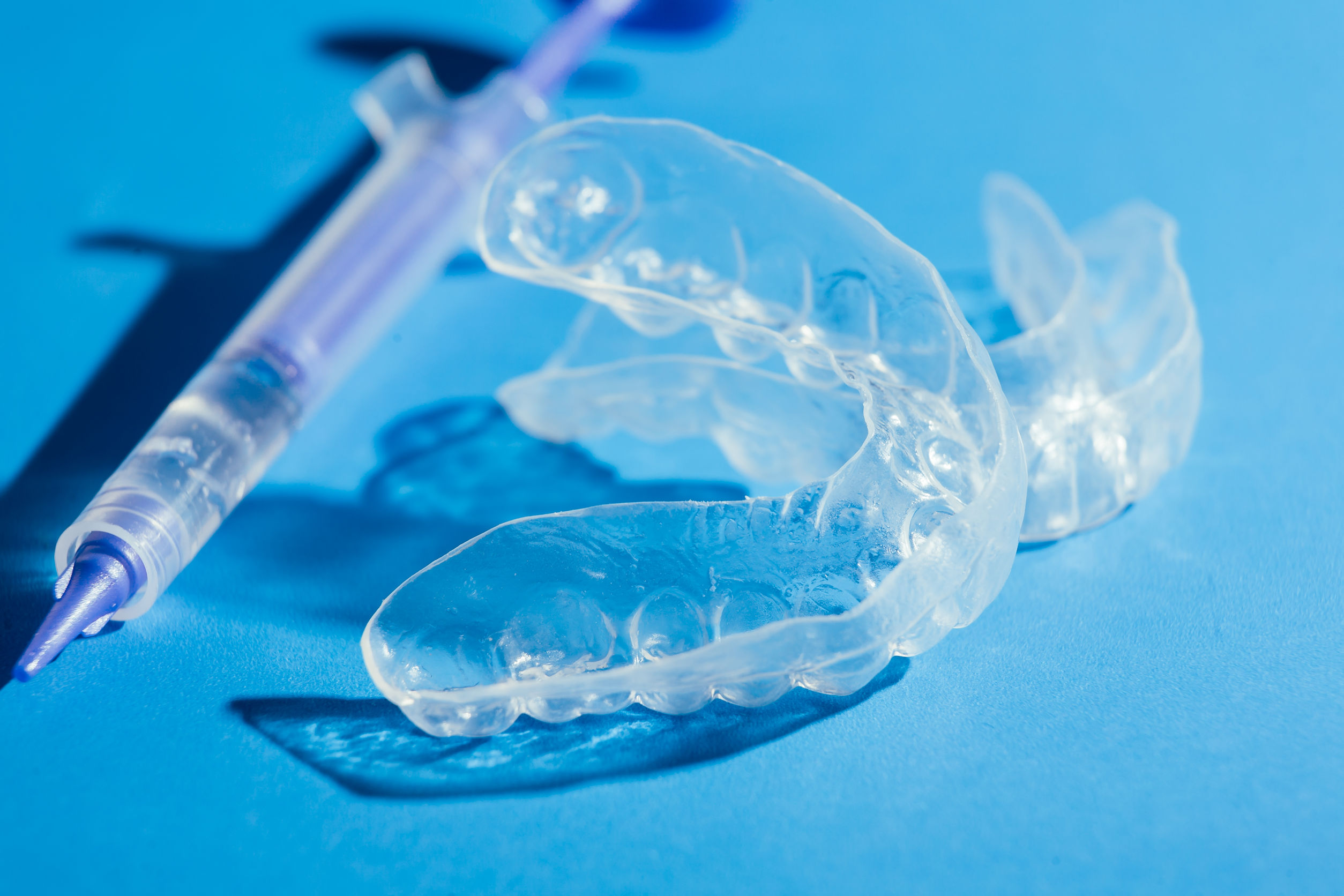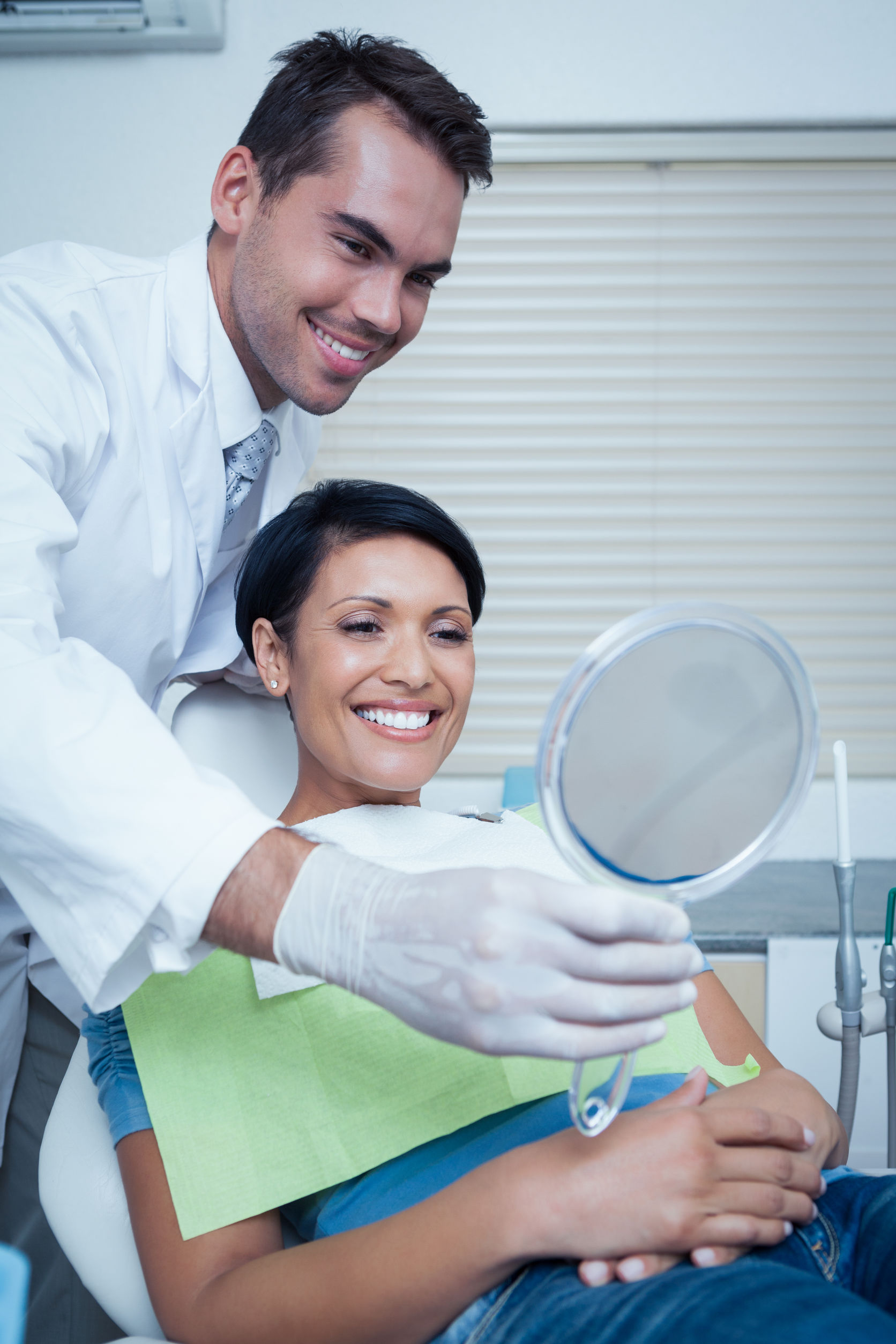 Is the In-Office Whitening Affordable?
You might think that requiring a dentist for a more effective whitening treatment would cost more than you can afford, but you're likely to be surprised just how inexpensive it is! Recent advancements in whitening technology have made our services much more affordable for patients. At Hammond & Proctor, in-office whitening treatment is very affordable, and in fact, is one of the cheapest cosmetic dental services offered.
Though a single-visit whitening treatment typically costs a bit more than at-home whitening kits, you're getting a much better and faster result. Our in-office treatments do not require daily applications and achieve longer results due to our highly concentrated whitening gel and whitening light, two items you simply can't get in stores.
Since results can vary based on your teeth's existing color and their overall condition, we'd love for you to book your appointment today, so we can better assess your smile.
CONVENIENT LOCATIONS
With locations in Cameron Park and Folsom, we make it easy for those living in Rocklin, Folsom, Sacramento, and Granite Bay to stop by and see us!
BOOK ONLINE
We provide a quick and easy way for people to book an appointment online! It's as easy as filling out a form.
Book an Appointment by Phone 530-677-0723 Cameron Park 916-805-5077 Folsom