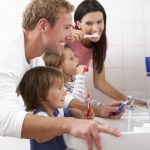 The Role of Dental Hygiene in Preventing Gum Disease – Hammond & Proctor Family Dentistry, Cameron Park and Folsom California
November 1, 2023
Welcome to Hammond & Proctor Family Dentistry, your trusted source for comprehensive family dentistry in Cameron Park and Folsom, California. At our practice, we believe that your oral health is not just about your teeth and gums; it's a crucial component of your overall well-being. In this blog, we'll delve into the connection between oral health and your general health, what to expect during a visit to our clinic, the benefits of our services, answer frequently asked questions, and give you compelling reasons to choose us as your family dentistry provider.
The Link Between Oral Health and Overall Well-being
Many people underestimate the significance of oral health, but it's more than just having a sparkling smile. Your mouth serves as a gateway to the rest of your body, and there is a strong connection between your oral health and overall well-being. Poor oral health has been linked to various systemic health issues, including heart disease, diabetes, and even respiratory problems. Regular visits to a family dentist can help prevent and address oral health issues that may impact your general health.
What's Involved in Your Visit
When you choose Hammond & Proctor Family Dentistry, you're selecting a team of skilled professionals dedicated to your oral health. During your visit, you can expect:
1. Comprehensive Examination: We conduct a thorough examination of your teeth, gums, and oral tissues to identify any issues or concerns.
2. Professional Cleaning: Our experienced hygienists will remove plaque and tartar buildup, ensuring your mouth stays healthy and fresh.
3. Digital X-rays: We use advanced digital X-rays to get a clear picture of your oral health, with minimal radiation exposure.
4. Personalized Treatment Plan: Based on our findings, we create a customized treatment plan to address your unique dental needs and goals.
Benefits of Choosing Hammond & Proctor Family Dentistry
• Family-Centered Care: We cater to patients of all ages, making us your one-stop family dentistry solution.
• Preventive Approach: We emphasize preventive care to stop issues before they become major problems, saving you time and money.
• Comfortable Environment: Our friendly team ensures a comfortable and stress-free experience for every member of your family.
• Advanced Technology: We stay up-to-date with the latest dental technology to provide you with the best possible care.
• Convenient Locations: With clinics in Cameron Park and Folsom, we are conveniently located for all your dental needs.
Frequently Asked Questions
Q1: How often should I visit the dentist for check-ups?
A1: We recommend regular visits every six months for most patients. However, your individual needs may vary, and we'll discuss a suitable schedule during your appointment.
Q2: Is family dentistry suitable for children?
A2: Absolutely! We specialize in family dentistry, and we have a gentle approach that's perfect for children. Early dental visits are crucial for their oral health.
Q3: Do you offer emergency dental care?
A3: Yes, we do. If you experience a dental emergency, contact us immediately, and we'll do our best to provide prompt care.
Why Choose Hammond & Proctor Family Dentistry
• Experienced Professionals: Our dentists have years of experience in family dentistry, ensuring the highest quality care.
• Patient-Centric Approach: Your comfort and well-being are our top priorities, and we tailor our services to meet your needs.
• Comprehensive Services: From routine check-ups to advanced treatments, we offer a wide range of dental services under one roof.
• Community Engagement: We're proud to be an active part of the Cameron Park and Folsom communities, serving your neighbors with excellence in dental care.
If you're searching for "Family Dentistry near me" or "Family Dentistry in my area," look no further than Hammond & Proctor Family Dentistry. Contact us today to schedule your appointment and experience the difference that quality family dentistry can make in your life. Your journey to a healthier, happier smile starts here.